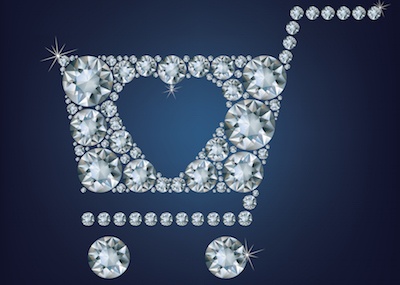 Today, having an online counterpart to your brick-and-mortar store is a must – especially for diamond jewelry retailers. While it takes real work to develop and maintain a successful site, doing so will pay off bigtime.
Here are the top six ways that having an online diamond jewelry store impacts your business:
1. Times have changed
If you search Wikipedia, you'll learn that online shopping was invented back in 1979, but it wasn't until the early 90s that online shopping took the form we recognize today. In that time, most companies have created an online site to complement their brick-and-mortar store. If you haven't already done so, now is the time to set yourself up. It's the ideal way for people to find your company, learn about how great you are and see all your beautiful diamond jewelry. It's also important to remember that by now most of your competitors will have an online store, so you need one too!
2. Satisfy your customers' expectations
The fact of the matter is, today, consumers find shopping online more convenient, simple and even often enjoyable compared to visiting brick-and-mortar stores. According to Forbes, "consumers have heightened shopping expectations, with 71% expecting to view in-store inventory online, and 50% expecting the ability to buy online and pick-up in-store."
If a future customer can't find you online, you'll lose them to local competition that came up on a Google search for jewelry stores in your area. There's no doubt that an online diamond jewelry store is a must-have in order to stay competitive, maintain an image and be up-to-date with current shopping trends.
3. Raise your credibility
Your online diamond jewelry store is an opportunity to show off your experience and knowledge of the diamond jewelry business and diamond market. Use an 'About' page to give current and future customers insight into your history as a diamond retailer. Add content that teaches your site visitors about how your jewelry is made, what types of diamonds you select, and about the materials or techniques that are used. Using your online store to show your credibility can make you just as attractive as the largest big box store.
Having a website rich with relevant content that goes beyond showcasing your merchandise will impress customers. After all, most customers today rely on a company's online presence as validity of its credibility in the market, according to Huffington Post Small Business. Learn more about the benefits of using content on your website in the next blog post.
4. Become available 24/7
One of the most clear-cut benefits to having an online store is that it makes your business available to potential customers around the clock. Consumers will look to your online store for information and to browse your inventory when it's convenient for them. They might even make an online purchase without ever contacting you in person or on the phone; according to Gartner, by 2020, customers will manage 85% of their relationship with a company with zero human interaction. Your online store keeps your business open and running regardless of the time or day.
5. Increase your reach
Potential customers who can't get to you physically can easily reach you online. An online store allows you to instantly access a global marketplace and reach potential customers looking to buy diamond jewelry from around the world. The sales you'll make through your online store can validate your ROI and boost your bottom line.
6. Improve responsiveness and customer service
Having an online store allows you to address your current and future customers' questions and concerns in a more convenient way. Include a comprehensive FAQ page on your site to address those common issues which previously would have taken time to deal with, either by phone or in person.
Customers will look to your site for information before they make a purchase and sometimes after, especially if they're looking to solve a problem with their purchase. Providing valuable information online can give them the answers they're looking for right away. Remember, faster response time means happier customers and returning customers.
Want to know more about setting up your online store, read our Beginners Guide: 6 Steps to Setting Up Your Online Diamond Jewelry Store. 
Are there other ways your online store is impacting your business? Let us know in the comments below!
---