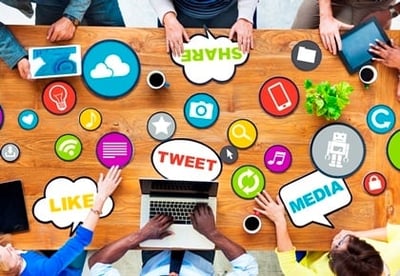 Social media provides particular advantages in the marketing of diamond jewelry. The networking element means that the proverbial word-of-mouth is spread rapidly and extensively. The visual component means that jewelers can easily showcase their diamond jewelry, and the potential for positive reviews means that the jewelers themselves are presented well too. Moreover, given the amount of time that consumers spend on social media sites, advertising the jewelry store and its diamonds through targeted ads can also be a sound business move.
The very phenomenon of networking over social media means that jewelry retailers can connect with their customers, personalize the diamond buying experience and cultivate relationships over time.
Share and Share Alike
Social media platforms allow for easy word-of-mouth, using concepts such as the 'share' and 'like' buttons, which can help spread your company name widely. There is also the potential for positive reviews and comments, which means that as a diamond jeweler, you too could be very well presented.
Once you have yourself set up, there is also the option to invest in paid advertising on social media, which can be a great tool for reaching your specific target market and boosting your connections with potential customers.  
Connection is Key
Establishing connections with your customers through social media gives you the ability to personalize the diamond buying experience for them. The pressure to make a sale that often exists when selling in store is greatly diminished through social media, because the emphasis is on relationship building and not so much on a quick sale.
Be an Open Book
Consumers value the transparency that social media offers, so it's in a retailer's best interest to take note of comments and criticism. Getting feedback about your customers' attitudes and opinions is crucial information that can help you make the right decisions to grow your business.
5 Social Media Tips for Diamond Retailers
Based on the recommended practices and points for consideration from social media management system, Hootesuite, we can determine the best social media practices. For the particulars of developing a strategy for your company, taking into consideration your concerns, budget, customer base, and more, a social media consultant can be very valuable and may be worth considering.
1. Evaluate what you would like to accomplish and how you aim to use social media to meet those goals.
What would you like to achieve by using social media? Are you looking to increase awareness of your brand? Do you want more customers? How will social media enable you to connect with your customers better, more frequently, and more deeply?
By identifying your goals, you'll be able to set the tone for your posts and establish clear messaging. Next, determine how you will evaluate the success of your social media outreach. What targets will you set and how will you analyze your results? With social media, you can track the statistics of how productive your promotions have been. Which sites have visitors come through? How many clicks have your posts gotten? How long do visitors stay on your pages? Read about how to measure social media engagement.
2. Find the social media tools that allow for integration and collaboration of the different aspects of your business.
The comments you receive on social media might be varied, and require expertise. The audience deserves the best response, so if possible, try to get employees, suppliers, sales, marketing and even your jewelry designers to engage all parties in the conversation. It's easy to set up team permissions with the right social media management tool such as Hootsuite, Buffer or Sprout Social.
3. Powerful promotional tool.
Social media can be a highly visual medium because of the abundant use of images. With diamond jewelry being so visually appealing, social media can be used very effectively to provide an advantage when marketing your diamond jewelry store. The ability to showcase your most eye-catching and popular pieces to hundreds or thousands of people is an opportunity not to be missed, especially as it doesn't have to cost a dime.
Make sure you use professional, informative and compelling shots of your jewelry and create appealing graphic designs for other types of messaging.
You can use social media to promote new products, new services, upcoming sales, news events for the diamond and jewelry industry, and more. Make sure to encourage conversation, and sharing, which is the essence of social media.
4. Pay attention to your competitors' presence on social media.
As the famous quote goes, keep your friends close, and your enemies closer. As a basic business practice, you should always have your eye on the competition, even on social media. Subscribe or follow them so that you know what their customers know. What is your competition promoting and how? Is it working? What comments are they receiving? Determine what you can do better or different, and do it.
5. Understand and utilize feedback.
As we've mentioned before, the ongoing engagement and interaction that social media affords means that you have a perpetual stream of feedback. Assess it well, and in a timely fashion, so that you can respond to it efficiently. At the same time, do not permit every single comment, particularly the negative ones, to dominate your thoughts. Try to find the constructive aspect of the negative comment and work on fixing the problem or repairing the relationship. Here's an article about how to handle a negative comment on social media.
Conclusion
Social media is a great place to showcase your products, interact with customers, and learn how to grow your business. Your whole team can get involved, and when done right, it's a vehicle that can drive sales and reinforce your brand.
How is social media working for you and your jewelry store? Leave a comment below.
---