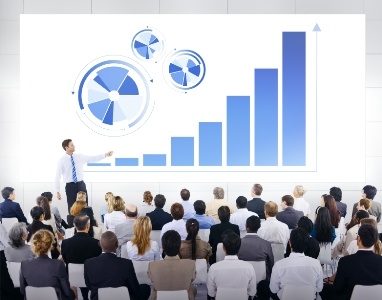 Most industries offer trade shows, and the diamond and jewelry industry is no different. But should you be spending the time and money to go? What are the benefits of attending? Are all trade shows created equal? What should you expect to get out of a trade show?
Trade Shows: An Overview
A trade show is a structured exhibition for companies in a specific industry to showcase and demonstrate their products and services. They may also be referred to as a conference, summit, event or convention. Trade shows are usually not open to the public and can only be attended by company representatives and members of the press.
The shows are usually organized by trade associations and can be regional, national, or even international. Some shows often include lectures and workshops about the trade, such as a review of developing trends, the challenges arising in the industry, and marketing and merchandising ideas for jewelers.
Jewelry and gem trade shows feature designers, diamond wholesalers, manufacturers and related business such as jewelry cleaning products, packaging, and retail displays. You will also find companies who work within the industry that provide support and advice, such as The Rapaport Group, for information services and trading platforms for diamonds.
Trade Shows from a Cost Perspective
It can be costly to attend a trade show, especially if it is not local. Factor in the cost of airline tickets, hotel rooms, and registration fees, and you can be looking at several thousands of dollars. It's wise to budget out costs and measure what your return on investment (ROI) will be before deciding whether to attend. Try using this handy trade show ROI calculator by Demand Metric, to help you plan ahead.
Benefits of Attending
After creating a budget, determining your ROI and deciding that it is financially feasible to attend, you may still be wondering why you should go. One of the best reasons is networking.
It is important to realize that since you will be able to see and meet with hundreds of diamond suppliers and buyers in one place, a trade show can actually be cost effective and efficient for your business. It's an opportunity to consolidate your buying or selling process down from a timeline of weeks or even months to just a few days.
Face-to-Face meetings and networking with others in the industry is an invaluable benefit of attending trade shows. According to CEIR, 51% of trade show exhibitors said they value face-to-face meetings with potential and current customers as well as suppliers and resellers. A trade show puts the industry players in one place at the same time and is a unique opportunity for you to build relationships with buyers, suppliers, peers, customers, and even your own employees. The focused climate allows attendees to share experiences and gain new ideas and insights.
The networking opportunities are usually both formal and informal. You can meet people by walking the conference hall floor, at the booth, arranging one-on-one meetings, attending panel discussions, gala charity events and even parties. If you get one, take any opportunity to give a presentation. Speaking opportunities are usually arranged in advance, but are well worth the effort to be able to be seen as an influencer and share your expertise, get your name out there and meet other professionals in your field. 
If you're a buyer, trade shows offer a situation in which suppliers compete for your business. As you walk around, you can immediately compare numerous companies' products, prices, and services. You can shop and compare the world's widest variety of merchandise and discover new companies, designers and talent. With potentially thousands of vendors that often include top importers and manufacturers, you are likely to find new suppliers as well as connect with existing ones. 
For buyers, face-to-face interactions will strengthen your industry relationships and increase the chances that you will end up on a supplier's "preferred list". When the supplier offers limited editions, promotional giveaways, or other opportunities, it's these "preferred" retailers who will get a call before other merchants, and you want that call to be directed at you. Face time at trade shows helps build these relationships, plain and simple.
If you are a diamond or jewelry seller, this is the perfect time and place to win new customers. Buyers that attend trade shows are usually knowledgeable about the industry and are looking for new and unique designs as well as good deals. Make your display unique and inviting so that potential customers will be attracted to stop by and check out your collections.
For both diamond jewlers and dealers, aside from the opportunity to buy and sell, there's opportunity to connect with others that may help your business in other ways or lead to sales down the line. Trade shows are also attended by many business consultants, product developers and international representatives looking for new products, lines and companies to promote. Be sure to connect with these people too.
As emphasised by Ken Krogue in his Forbe's article, The 12 Commandments Of Incredibly Successful Tradeshows, it is of great value to reach out to past contacts before a show to make appointments. These leads are more likely to become customers if you engage them in advance and show that you value their time. 
Industry Trends
Trade shows are a way to find out what is new and trending in the diamond jewelry retail business. It's a forum where all the major players usually attend. As Camille Candella, Vice President of Marketing for Emerald Expositions shared in a recent article in Forbes, "Trade shows are a great reflection of what is going to be hot in the upcoming retail landscape. The buzz from the show floor is unlike any other buying opportunity that retailers have access to, and only by attending trade shows can merchants gain from this."
JCK Las Vegas, a large jewelry show in the US, touts itself as being "the leading jewelry event in North America open to all jewelry professionals. Each year, the industry gathers where the latest awe-inspiring domestic and international designers and most sought after trends are showcased in a secure environment."
Educational Resources
Another benefit of trade shows is the opportunity for educational growth within your industry. One can usually find free and paid classes, workshops, and lectures. These are given by leading industry experts and provide valuable information and insights into the diamond jewelry industry. Topics range from How to use social media to grow your business, to The latest wedding jewelry trends and Updating your store's display.
Finding the Right Trade Show for Your Business
Not all trade shows are created equal. Since attending can be pricey, it is important to research and find the right shows for your business. You can ask peers where they've attended, and even investigate what shows your competitors are attending. Find out what shows have worked for them and why, and what shows haven't.
RapNet provides a calendar of all upcoming events in the diamond and jewelry business, which is a great resource. Once you find a show you are interested in, check the show's history to see how many and which suppliers they had in previous years, find out if there will be speakers and what the topics will be and even contact people who have exhibited or attended the show in the past and ask if they thought the show was worthwhile.
If you want to find large numbers of new and unique diamond suppliers and customers, then you may want to go to an international show. If your focus is on USA-made and sold jewelry, there is no need to leave the USA for a show, and if there are trade shows in your city, you may not need to travel at all. Decide if it's better for your business to be a big fish in a small pond or vice-versa. You should factor in your specific needs and objectives, as well as cost and timing, when considering which shows to attend.
Conclusion
Trade shows offer big benefits to diamond jewelry retailers and dealers of all sizes. By combining exposure to a large number of diamond suppliers and customers with the ability to interact personally, as well as attend informative sessions led by industry leaders, it is clear that trade shows offer an invaluable experience for retailers. 
---