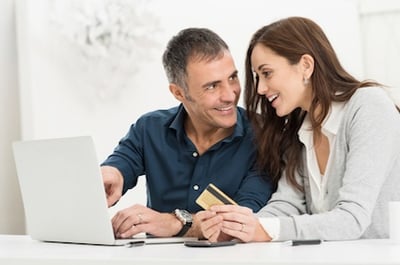 So you're ready to set up your online store… that's great! Whether you're complementing a brick-and-mortar store with an online presence or you're starting out with an online diamond jewelry retail store, here are six basic steps to take to get you started.
1. Decide on a budget and expected ROI
The importance of this step can't be emphasized enough. With a clear budget in mind before you get started building your online diamond jewelry store, you'll have an easier time making decisions relating to your website down the line, such as how much you can invest in your site's design, payment services, CRM (customer relationship management) system and more. Opening an online business can cost anywhere from around $10 to $700 a month depending on factors like how many products and services you intend to provide.

You should also decide on your expected ROI (return on investment) before you get started. Knowing in advance what your target ROI is will allow you to keep track of how successfully your site is performing and will equip you to make necessary changes along the way. You can calculate your ROI by using this formula: 

ROI = (Gains – Cost)/Cost. 

For example, if you were to invest in a new flower shop called Florie's Flowers, and you buy 20 shares of Florie's Flowers at $10 a share, your cost for this investment is $200. If you then sell those shares for $250, then your ROI is ($250-200)/$200 for a total of 0.25 or 25%. This can be calculated by taking the cost of $200 and multiplying it by 1.25, returning $250.
2. Know what you're setting out to do
While it might seem simple that you're setting out to sell diamond jewelry online, in order to set up a successful online diamond jewelry store that meets your expectations, you should clearly write down what your expectations and desires are.

Take a look at other online stores and decide what you like about them. Try to incorporate some of these ideas into your own online store. Perhaps these characteristics relate to the site's flow or design, or the simple checkout process. For further inspiration read 9 Characteristics of Well-Designed E-Commerce Websites.

It'll also help to have a clear idea of exactly what you're going to be selling online before you begin working on your site. If you already have a brick-and-mortar diamond jewelry store, will you be offering all your inventory through your online store, or only part of it? How many pieces of jewelry does this entail? Gathering the details of the products you'll be selling online will also go a long way with getting your online diamond jewelry store up and running. These details include pictures, pricing, descriptions and options (sizes, colors, etc.).
Did you know that you can instantly showcase thousands of RapNet diamonds to your online store, and it's customized to your brand so your customers will think they are part of your own inventory. RapNet Instant Inventory lets you seamlessly add verified diamonds to online store's stock so you'll always have what your customers are looking for
3. Decide how you'll build your online store
You have several options for getting an online store up and running:
a. Build it from scratch. This option can get costly and time-consuming as it involves hiring designers, engineers and more. 
b. Set up a store on Etsy, Amazon or another online marketplace. This approach may be quicker and a bit simpler, but it'll cost you the opportunity to build your own brand.
c. Use an ecommerce platform like Shopify or Wix. This is a great option for creating a great-looking website and getting it up and running fast, without needing to hire experts.
Picking which option is right for you depends on your particular talents and resources. With most ecommerce platforms, you'll enjoy a variety of third-party plug-ins to 'beef up' your site, a number of attractive design themes to choose from, simple store management capabilities and integrated payment services—all for a monthly rate that only increases as you opt for increased capabilities. If you go this route, be sure to choose a provider that offers high-quality customer support, so you'll be assured that you can have any of your questions answered in a timely fashion. 

Take a look at this Forbes article on the best ecommerce platforms, which includes options for both hosted and self-hosted platforms.
4. Set up the factors that will complement and support your online store
There are three basic components you'll need to support your online diamond jewelry store: email, a phone number, and an approach for handling customer support. 

When you've selected and secured a domain name for your online store, create email addresses for your team using that domain. You can do this by setting up an account on Google Apps, which has a free option that allows for up to ten email addresses. 

Having a phone number dedicated to your online store will not only keep your personal or brick-and-mortar store's lines less crowded, it will also equip you to appropriately answer calls from online users. Consider using virtual phone solutions, which can be very convenient. Some options include Phone.com, Line2 and Grasshopper. 

Finally, be sure you have a straightforward approach for handling customer inquiries. A CRM system can be pricey, and it's something you may have the option to hold off on at first, until your customer support volume grows. A less expensive approach for handling support emails involves Google Groups. Create one and give it a support email address that uses your domain name (i.e., support@examplestore.com). Then, define your group's permissions so that anyone on the internet can post messages, but only team members can view and reply to them.
5. Decide how you'll incorporate and manage Social Media
A sure way to boost the performance of your online diamond jewelry store is to incorporate social media. But remember: your presence on Facebook, Twitter and other channels will also require maintenance. Decide how many social channels you have the ability to manage, and connect those accounts to your website. See this Hubspot infographic on the best times to post on Facebook, Twitter, LinkedIn and other top social networks, so your efforts aren't overlooked. (To learn more about Social Media, read An Introduction to Social Media and the Benefits for Diamond Jewelry Retailers)

In addition, to encourage further engagement with existing and future customers and providing creative ways to maintain your relationships with them, your presence on social media (and your online store itself) gives consumers more ways to voice their opinions about you. Keep track of what they're saying so you can address any important insights they may provide, and make sure you're being reviewed in places that will boost your store's performance. Here's a great guide on 12 Places Business Should Be Collecting Online Reviews.
6. Don't forget about SEO
SEO (search engine optimization) is important for making sure your online diamond jewelry store gets noticed. Contrary to popular belief, when you're getting started you can go a long way with SEO without hiring an expert. Although hiring an expert or SEO agency will surely help you improve your rankings and site traffic, there are steps you can take alone for optimizing SEO. For further advice, read TrueShip's 7 Tips for Optimizing Your Online Store for SEO.
Conclusion
Building your online diamond jewelry store is a crucial step to expanding your business and the ideal way to show off all of your beautiful diamond jewelry. Survey your options with regard to creating the site yourself and the cost of hiring a professional to get you up and running. First impressions count, so take time to perfect your site before it goes live and then start to reap the benefits of all your hard work when you make more sales and close more customers. 

Did we miss anything? Let us know what crucial step you took when building your online diamond jewelry store in the comments below.
---