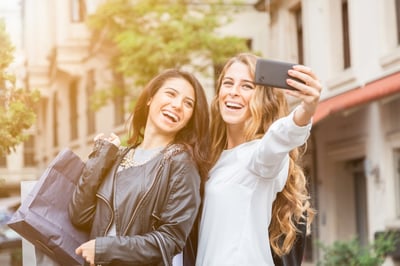 Social media has become a way of life for not only personal communication but also for business, notwithstanding diamond jewelry retailers. Social media is a tool that can aid in driving traffic to your site. The idea behind social media is that everybody likes to share, be heard, and feel like they are part of something. This can be great for your diamond jewelry business if you make sure you are targeting the right audience at the right times and you are creating compelling messages that people want to share.
There are so many networks out there, how can you know where to start? Start by finding out where your target market is and go there. Gaining brand awareness through social media is a slow, organic process that takes time and it has to be cultivated and nurtured. So pick a few networks, and stick with those.
Post your own content and curated content (from other sources, with attribution) and ask your friends, colleagues and family to share. Stay active, and if your content is truly good, it will get shared. Follow people who you think would be a good fit for your brand's image, and they will, by and large, follow you back. 
Here is a quick breakdown of some of the most popular networks and how you can use them:
Facebook
Facebook is a casual, friend-to-friend site that helps spread your message by word of mouth. It's also a user-friendly network to start with. You may already have a personal Facebook page, but even if not, it's easy to build a Facebook company page and include your blog posts and curated content. Let your brand personality shine through and share and like other people's posts and pages. When you share other people's content, they tend to share yours.
Twitter
Twitter is a great way to express your thoughts in 140 characters or less. People often tune into Twitter for breaking news or current event type communication. Another benefit of Twitter is the low "commitment." Asking people to read one sentence isn't too much and many people enjoy these short bursts. SocialMediaExaminer.com says, "Twitter is a great way to drive people to your blog by creating tweets around your blog posts". Space is at a premium here so it could be good to use the Twitter link shortener to save valuable letter real estate in your blog's URL.
LinkedIn
Create a LinkedIn Company Page. LinkedIn is the more professional based social network, and a great place to establish your business's credibility. SocialMediaExaminer.com says, "LinkedIn company pages are essential. Not just for brand visibility, but also for building and sustaining a useful community around your products and services." They also note that over 1,275,000 products and services have LinkedIn Company pages as customers often check there before making a purchase, to make sure a company is legitimate.
YouTube
YouTube is a video posting and sharing site. Post videos that educate current and potential consumers about how to choose a diamond, how to store diamonds and the like. Kissmetrics.com notes that "An engaged community of viewers often leads to a loyal following. Unlike a blog, with video, your viewer can see and hear you, and that establishes a much deeper connection." This is also a great way for people who prefer not to read content to still develop a high-quality content collection and a lot of people would rather watch than read.
Pinterest
Pinterest is a visual discovery tool that allows its users to create boards of the images they like. Pinterest is also a great place to get seen, so be sure you have boards that show off your beautiful diamond jewelry with fun quotes. The more entertaining the quote, the more it will be shared on social media. One idea could be to have a healthy looking model showcasing your jewelry and dressed in a retro fashion with the quote, "I never worry about diets. The only carrots that interest me are the number you get in a diamond." – Mae West. This will probably be shared.
Nothing has staying power like a Pinterest post, so it's a great way to get some publicity and it's a lot of fun, too. The last part of the Pinterest formula is to make sure your blog posts on your site have a "Pin it" button. According to Blog.Wishpond.com, "The "Pin it" button can create a massive increase in referral traffic back to your site. Allrecipes.com, for example, added the "Pin it" button, and in just three months, people Pinned their recipes over 50,000 times, resulting in 139 million views on Pinterest.
Conclusion
Social media is one of the most lucrative forms of marketing in the diamond jewelry business today. It not only drives traffic to your site, but it gives you an opportunity to connect directly with your current and perspective customers. You can easily engage in direct communication, allowing for improved customer service and the ability to add a personal touch. It's free and easy to use, so take advantage of the many opportunities out there and start making connections.
---