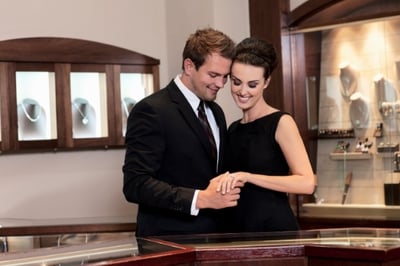 The purchase of diamond jewelry has signified luxury and romance for decades, thanks to a combination of wildly successful advertising campaigns and a highly controlled market, which keeps prices steady. Thanks to these forces, the diamond jewelry market has shown itself to be surprisingly resilient and highly competitive, even despite significant economic fluctuations over the past decade.
Retailers who want to keep up in today's competitive luxury market have to proactively drive jewelry sales. Here are 6 tips to drive more business to your diamond jewelry store.
1. Get Online
According to current market research, about 40% of diamond jewelry buyers in the US first research their purchase by looking online, which is a higher proportion than those who research by walking into jewelry stores or look at print advertising. While more diamond jewelry pieces are still being sold in stores, online sales are also increasing. This means that any diamond jewelry store looking to stay relevant needs to have a professional online presence, to draw in new and local clientele.
2. Know What Makes You Unique and Embrace It!
What is it about your store which has your clients coming through your door? Why do your clients come to you, instead of to the thousands of online diamond jewelry stores and many other local competitors? That is your brand, and it can be highlighted through everything from your staff's sales approach, your store's decor and your online presence. A jewelry store which is known for unique, custom diamond jewelry designs should have a different ambiance from a retailer known for their excellent deals, who should have a completely different feel from a high-end, luxury retailer.  
3. Know Your Client Base
As in any luxury industry, knowing the ins and outs of your market is essential in order to stay relevant and thrive. Do engagement rings dominate your sales? Well, depending on if you're based in the US, China, or India that means that your client can be entirely different! Are there other occasions or holidays that you notice are opportunities for a marketing push? What kind of pieces are your clients looking for around the holiday season? The better you understand your client base and their needs, the better you can become the store they come back to again and again. Better yet, keep track of your customers. What they like to buy and when. Contact them again to let them know about something special you have for them.
4. Stay Current
The diamond jewelry business never stops moving forward, and you need to know what is going on in order to stay relevant. See if current trends in diamond jewelry are compatible with your store's brand and incorporate them where possible. Of course, the industry standard publication is JCK Magazine.Wouldproviding a more on-trend range ofproductsbring in new clientele without damaging your brand? Even something as simple as updating your store's logo or decor can have a modernizing effect.
5. Polish the Sales Experience to a Shine
Diamond jewelry sales require a delicate hand and a finely tuned ability to understand what approach is appropriate for a particular client. Diamond jewelry customers are buying for a variety of emotionally charged reasons, and a sales person needs to be able to detect what will appeal the most. There also needs to be a balance between actively pushing pieces which may interest a client and making sure she isn't turned off by a too-pushy approach. Make sure your sales staff is trained to create a friendly environment which encourages browsing. They also need to be well informed about diamonds. Developing a rapport and a relationship with clients is sure to pay off. In the diamond jewelry business, it's estimated that 80% of pieces are sold to 20% of clients, so it pays to keep them coming back. An appealing window display and decor which reflects the ambiance you are hoping to project are important parts of the retail experience as well.
6. Stay Competitively Priced
With consumers doing an increasing amount of research before they set foot in stores, it is important to stay in touch with what price points your market can tolerate. A periodic review of your competitors' prices is a good idea. It is also a good idea to stay current with the overall diamond market, using one of the many online diamond markets which have made pricing more transparent. The price list at www.diamonds.net or the real-time online diamond market guide at RapNet are excellent resources for the diamond retailer.
Do you have any valuable tips for increasing diamond jewelry sales? Let us know!
---