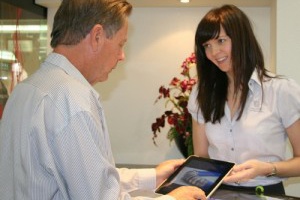 When looking at software to help run your diamond retail store there are so many questions. The first questions are often "What does my store need? What type of software and what functions does that software need to perform?" In the following blog I'll answer these question and provide details of what to look for, as well as briefly look at why software is such an essential part of a diamond retailer's business.
POS and Retail Management Systems, Defined
Electronic POS (short for point of sale) or POS software is a term used to describe a combination of hardware and software that manages the sales transaction.
A retail management system is a term used when a system incorporates POS with extra features that take care of all the stores functions, including inventory control, suppliers and ordering, customers and in some systems, marketing and the management of the workshop and repairs.
Benefits of POS
There are many benefits of having a retail management POS system. By capturing all the data for the store, sharing it, reporting on it and using it to make informed decisions, a retail management POS system saves time, saves money, saves duplication of work and the time it takes staff to perform tasks. It increases efficiency, automates processes, increases accuracy, increases sales and enhances the customer experience, just to name a few.
Why Go POS?
If you have never used a retail management POS system you may wonder why you need one. Your manual records or Excel files have sufficed to this point - why change?
These records and files may have been used to get you where you are today and may continue to work in the future if you have very little inventory and no employees.
In today's world though, to match customer expectations, match staff expectations of the tools they need to complete their job and easily meet compliance and to meet tax and business requirements, then a retail management POS system is a must have. 
Which POS System is Right for You?
There are many ways to evaluate a retail management POS system.
Ease of use, functionality, cost, compatibility with existing systems, staff experience and desired computer environment are just a few.
If, for example, you have run a Windows environment for many years and all your staff are familiar with Windows and have never used a Mac, a complete Mac solution may not be the best idea, as it would involve training of both the software system and the Mac environment. Likewise, if you run a Mac environment, and you buy software that only support Windows compatible printers and peripherals, it would leave your store without any compatible printers and hardware. 
Ease of use and functionality can often be determined by having a walkthrough of the system and then letting your staff loose on a free version of the program. The walkthrough covers the functionality and ensures the system includes everything you need (by having someone to answer your questions you can find this out very quickly, rather than trolling through a system yourself). The ability to play with a free version then lets you try the system and ensure that you can use it and not just the sales people selling you the software.
Other important requirements are reliability, ability to import existing data, ensuring the solution includes the latest technology and is continually developed so your store will not be left behind.
These last points are quite important. Today, technology is moving so fast and if your software is not keeping up with the latest hardware, browsers and operating systems you can be left with a system that will only work on old computers and systems that are a security risk. You also don't want to be left with a system and no support, so ensuring the solution is backed by a long serving company with a strong desire to continue, you will always have a system you can rely on.
Another factor is industry. With hundreds of Retail Management POS systems on the market it is important to look for a solution that is designed specifically for your type of store. For a manufacturing or retail Diamond jeweler it is important to look for a solution made specifically for a retail diamond jewelry store. From my experience the stores that have purchased generic systems outgrow or realise the shortfalls within two years and then need to purchase an industry specific system to cover all their needs. This can be expensive in both dollars and time and staff need to then learn two systems in a short period. Businesses that purchase the software that is designed for their store generally keep that software for five years plus.
The Evolution of POS
Retail Management POS has come a long way. From traditional POS, to all in one systems, to web-based and mobile solutions.
Traditional computerized point of sale started in the 1970's and became affordable and commonly used in the early 1990's. The traditional solution is a fixed location computer on the counter generally running Windows or Mac with POS software installed locally on the computer and speciality hardware known as peripherals such as barcode scanner, cash drawer, credit card readers and receipt printer attached to the computer. Until the 1990's often the backoffice computer system and front counter system were not linked and required daily syncing of data to show the entire store picture.
In the early 2000's all-in-one systems were available where the hardware, software and peripherals came bundled all-in-one. The backoffice system was often networked and shared the information, though multiple stores' data was often synced and not live across all stores.
These solutions of having fixed location computers and all-in-one systems work well in places such as grocery stores or food outlets where space is not an issue and the customer has a designated checkout point.
Today, thanks to cloud computing and the 'Apple Store experience', mobile point of sale systems and web-based systems have become very popular. These solutions significantly enhance the customer experience as they allow the customer to be served from anywhere on the floor and allow staff to answer questions without having to leave the customer or move them to a fixed computer terminal.
POS on the Cloud
Cloud computing is where the software (often called a service) is delivered over the internet.
Cloud retail management POS software serves the same function as the traditional systems you would install on a computer, except it runs on cloud servers and is accessed on a web browser, over the Internet. The retail management system can be run on computers, laptops, PCs, and mobile devices* such as iPads, tablets and smartphones. Data is securely stored and processed "in the cloud". This means you can access your business data from anywhere and using any device, as long as you are connected to the Internet.
There are many benefits to using cloud retail management POS software. In addition to the flexibility of accessing your data from anywhere, you never need to install software on any device and updates are automatic and free. Your data is automatically backed up, data transfer is fully encrypted, multi-store data is live across all stores and the firewall and security protection of the servers is actively maintained and monitored by high-level professionals, which is much higher security than many small business networks and laptops and devices. Cloud systems are also purchased on a monthly or yearly contract, making them affordable to all size stores.
Since 2010, there has been a dramatic shift in stores moving to cloud retail management POS systems.
This can be attributed to stores wanting the benefits mentioned above as well as the cost savings of using the Cloud. With the traditional system the store needs to purchase a computer or hardware for each employee or area where they want to work. And then, on top of that, purchase software licenses for each of the computers, so employees have the tools they need to perform their work. This could become quite costly, time consuming and resource heavy with infrastructure and setup, as the store needs to upgrade both hardware and software, not to mention keeping track of hardware failures, security, virus protection and data backup in case of failure.
As the cloud retail management POS system removes all these issues, it leaves the store owner with the ability to concentrate on the most important thing - the business.
Closing Thoughts
Whether you choose a traditional system, all in one system or a cloud system, a retail management POS system is a must have for any store to thrive. They can help stores of all sizes become efficient and consistent. In today's world, the manual way of operating a business just doesn't cut it any more. With the right retail management system for your store, both your customers and bottom line will benefit.
*not all cloud solutions are compatible with all computer systems. Check with your cloud solution provider if the solution is for Mac, Windows, Linux or Android. Many will be compatible with all, though some may be Mac specific or Windows specific.
---