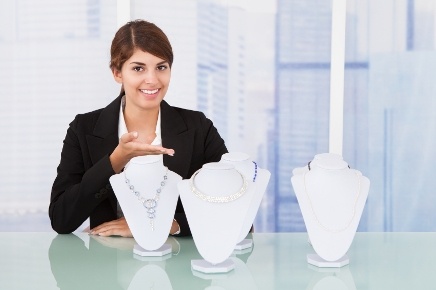 When a person looking to buy diamond jewelry turns to a smaller diamond retailer instead of a department store or mall chain for their purchases, it's usually because they are seeking a certain level of security and reliability that they hope to obtain from the expertise of that person or store.
From the retailer's perspective, that presumed expertise is an important selling point. Given the technical and costly considerations associated with purchasing diamonds, customers seek out the expertise of a diamond retailer.
At the basic level, the expert diamond retailer will reflect his authority by clearly educating and explaining the 4Cs of color, cut, clarity and carat of the main diamond(s) within a certain piece of jewelry in a way that the customer can understand. The 4Cs can be used to explain what makes those particular diamonds beautiful, unique and valuable. Some customers also like to hear about the scientific, historical and mystical qualities of a diamond.
Read our blogs on the 4Cs to learn about them in more detail and pick up some great tips on how using this information can help you make more sales.
Other topics to further establish your credibility and their confidence in you would be to discuss the jewelry styles you are showing in your store, and why you chose them; what you think about recent design trends and if they will last; the pros and cons of buying synthetic diamonds, and so on.
And being the expert is also very much based on your branding. Martin Rapaport explains that jewelers should build their own brand and not rely on other parties' established brands to boost business. "You have to have a 'me' brand. You have to have guts, personality, relationships," he said. "You have to say 'this diamond is from me, I am the selector, I am the expert.' The real brand should be you."
The White-Coat Phenomenon
It has been documented that if a doctor wears a white coat in the hospital, even if that doctor is a first-year medical student, patients will grant that person authority simply by virtue of their attire. Similarly, customers grant you authority as a dependable diamond retailer based on the fact that you are a specialty shop. You have the opportunity to support their thinking and demonstrate that they are right in their assumptions by making sure that:
You are professional – a craftsperson and an expert
You are able to provide excellent information on diamonds
You are the consummate salesperson – helpful and friendly
You keep up-to-date in your knowledge of trends and designs
You provide the best service and highest standard of customer care
You make good on their perception of you
That last point can be subtle, but it doesn't have to be. Use every opportunity to showcase your expertise. Always be honest in your business dealings. Show your expertise through your advertising campaigns and direct mailings. Give the members of your sales team the opportunity to become educated and certified in gemology and then be sure to display any certificates received prominently in your store.
Additional Services by the Diamond Jewelry Expert
Since the expertise is truly yours, you can showcase it to your customers in the services that you offer. For example:
Repair jewelry expertly
Inspect jewelry and clean it, free of charge
Certify or provide a valuation of your customers' diamonds and diamond jewelry
Provide a workshop or design studio for bespoke jewelry
Publish an expert blog
Post interesting facts on social media
The more you offer, the more you demonstrate your knowledge and professionalism in the field. That kind of expertise brings people back to your store, and that is how you establish yourself to make the sale and hopefully the repeat sale too.
Conclusion
Diamond jewelers have the advantage of making sales based on their area of expertise. Use your expertise wherever you can, and you truly can't go wrong.
---