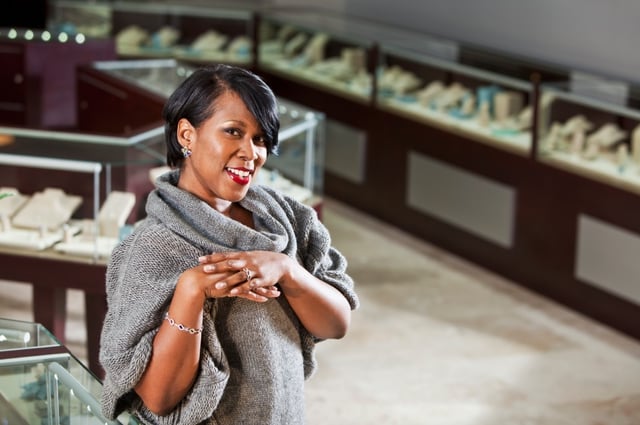 Changes in fashion for diamond jewelry are usually more subtle and slower than the lightning-fast, drastic changes we see in the wider world of fashion. However, trends are still evident, and looking back at the past year, there are some obvious styles that stood out from the rest.
Celebrities and High Fashion Made Their Mark
The styles of diamond jewelry worn by celebrities are a clear representation of fashion trends. 2015 gave us celebrities showing off colored diamonds, antique cuts and engagement rings of all varieties in both classic and vintage designs. For example Sophia Vergara, who got engaged at the end of 2014, flashed her head turning, vintage-style platinum halo ring with a large cushion cut center diamond and Lady Gaga proudly presented her 10 carat, heart shaped diamond ring with its hidden message on the band.
High-fashion runways were also big players in influencing this past year's accessory trends. Runway jewelry styles for Spring/Summer 2015 included ornate, dramatic and medieval-looking diamond statement pieces, and Fall/Winter 2015 showcased jewelry for haute couture like this striking piece by Alexandre Vauthier x Mellerio dits Meller.
Fresh Styles Found Their Place
A dominant style this year was asymmetry, in both diamond arrangement and color. This was especially popular for earrings and engagement rings. Necklace designs were either choker-style, or long and bohemian, featuring large pendants or layered pieces. Another common trend was celestial-inspired pieces, featuring stars, moons and planets.
So What Were the Big Hits?
Here are some of the great 2015 diamond jewelry trends that really spiced up the scene over the last twelve months:
Go Vintage

 

– The vintage craze favored some specific diamond cuts such as

 

cushion-cut, which saw a particular increase in demand. Emerald and Asscher-cut diamonds, with a more antique flair, were also on the rise. A richer variety of diamond colors could be found, especially yellow, blue, and green diamonds, or even a combination of diamonds with colorful gemstones, such as sapphires. As for settings,

 

Art Deco or Edwardian style settings

 

provided the perfect, on-trend backdrop to the vintage-cut stones and warm tones of yellow or rose gold were often used in favor of white gold or platinum.
Hello Halo

 

- While a large, central stone provides a dramatic look, this year fashionistas were looking to break up that overwhelming surface without losing the flair of this trend.

 

A halo of stones

 

surrounding a larger, center stone or clusters of small diamonds took center stage instead. What's more, the multitude of smaller stones made a glamorous and sparkly statement, whilst being more budget-friendly for the same amount of diamond carats overall.
Palette Perfect

 

- Each year,

 

Pantone LLC, the world-renowned authority on color, surveys the design world to predict which color trends will dominate the marketplace. In 2015,

 

Pantone proved to be spot on

for the jewelry industry too

. The Pantone color palette for 2015 was nature-inspired and minimalistic, featuring colors such as "Toasted Almond," "Strawberry Ice," "Lucite Green," and "Scuba Blue," so that the subtle tones of yellow, pink, green and blue diamonds would fit in nicely.
Wedding Wears

 

–

 

Bridal trends

 

from this past year showed that the modern bride was looking for jewelry styles that helped to express her individuality and unique tastes, something that would really stand out from the crowd. The vintage trend was an obvious choice to meet this demand and led many brides to choose updated versions of classic designs, such as antique diamond cuts in a more streamlined setting. Other styles that became increasingly popular included rose gold settings, nature inspired designs using leaves and flowers, and diamonds combined with pearls or moonstones.
Keeping Up with Ever Changing Diamond Jewelry Trends
You may have noticed some of these and other jewelry trends from your own customers' buying behaviors over this past year. Going forward, it's imperative to keep up to date with the latest trends so that you can stay ahead of the game. See what's been forecasted for 2016 with these quick references to get you started:
What have you noticed to be the diamond jewlery winners and losers in 2015? We'd love to hear. Leave a comment below.
---