Image from "Tiny Jewelry Box"
Jewelry stores are increasingly trying to cater to customers seeking combinations of contemporary and vintage pieces. Here's some advice and curating tips for jewelers on how to stock and display a mix of modern and antique jewelry.
Curating a mix of contemporary and antique or vintage pieces is a rising trend at modern fine-jewelry stores, and it's turning shop owners into jewelry mixologists who cater to the growing number of women seeking rare pieces with style, character and meaning. Today, more designers are borrowing elements, symbolism and motifs from historical jewelry, while collectors are continually drawn to the storied and sustainable nature of authentic antique and vintage pieces. For retailers, stocking the best of both worlds can lead to multiple sales as clients build jewelry wardrobes that combine past and present styles.
Learning from experience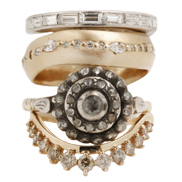 Image from Esqueleto
Store owners who already combine antique/vintage and modern jewels in their displays have some advice for those just getting started, particularly regarding mistakes to avoid.
Read the room. "We are living in different times right now," says Jim Rosenheim of Tiny Jewel Box. "Women are still buying jewelry, but our lifestyles have grown very casual — working from home, maybe seeing a few friends in an environment that is outside and more distanced. It won't be like this forever, but it's something to think about for the next few years. Women are investing in pieces they can wear now, that make them feel confident and empowered and speak to their beliefs, hopes and strength. They aren't getting dressed up to go to parties, so it's important for the stores to rethink what they are curating."
Don't skimp on quality. "If you are looking for finely made antique or vintage jewelry, you need to look for the same refined quality in the modern jewelry you offer," advises Sheri Evans of Metier SF. "Poorly made contemporary pieces won't translate well with authentic period pieces."
Positioning is important. "Don't forget to juxtapose pieces," says Evans. "Ornate with minimal, rugged with more elegant, and bold with delicate are just a few examples."
Don't overbuy in either category. "It's challenging knowing where to invest money and energy," acknowledges Lauren Wolf of Esqueleto. "It's definitely a balance between being well-stocked and having pieces that aren't moving, or bringing in more pieces before the ones you have sell."
Watch out for reproductions. Replicas of items from the Georgian through Art Deco periods, as well as signed jewels, have managed to fool even the most knowledgeable dealers. "We are hyper-aware of what's going on and try and stay away from the categories that are being copied the most," says Evans. "But anyone can make a mistake — and when we do, we are always willing to give a refund."
Curating tips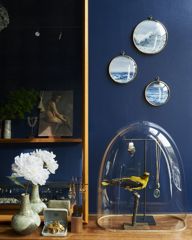 Image from Mertier SF
As creative director of estate dealer Fred Leighton, Rebecca Selva has been helping style A-list celebrities for more than 20 years, including actresses Nicole Kidman, Sarah Jessica Parker, Lupita Nyong'o, Meryl Streep and Natalie Portman. The legendary jewelry store carries pieces dating back to the Georgian era, but also includes new in-house designs. For her red-carpet looks, Selva taps into each client's distinct personality and reworks the pieces in unexpected ways.
"It's much more fun when styling jewelry not to stay true to one time period," she says. "This gives all of the jewelry a current feeling and allows women to get creative and wear their more dressy jewelry more casually and more often. It's all about finding balance in asymmetry and using some imagination and your instincts while doing it."
Here, she shares her tips for helping clients curate a good mix for their collections and wardrobes.
See which pieces speak to each other — the textures, finishes and styles that cross periods, yet work together aesthetically.
Find one anchor piece. You can start with a statement piece, be it contemporary or antique. "My favorite necklace to work around is a Georgian rivière necklace," says Selva. "You can graduate delicate pendants and beautifully designed gold chains from there."
Add little elements of surprise. Playing off the anchor piece, add on a gold chain for layering and attach, for example, a modern pendant in the center and then one small vintage brooch or pendant asymmetrically on the side. It will add more interest.
Don't let a layered look get messy. To achieve an impactful look, take any charm or medallion out — anything that is too fussy. Allow each piece to be seen and become a significant part of the jewelry story you are creating.
When it comes to metal colors, take an "anything goes" approach. You don't have to wear all white or all yellow like you thought you did. Mixing up white gold or platinum with yellow or rose gold and using different styles of chains and components pops the styling.
Take seemingly disparate pieces and throw caution to the wind by wearing them together. You can be spontaneous and get playful with even the most serious of jewelry.
If you have a favorite idea or piece that you love wearing one way, try putting it on another part of your body. You might even start to prefer it that way. For instance, says Selva, "I love the look of gold vintage wedding bands on a chain around the neck."
---