It still amazes us to see all the old websites out there, and in the B2B space it's even more disturbing. 
You know a website is old when you're using your desktop or laptop and the website looks tiny and fits on the whole page. You know it when you look at the website from mobile and you see only a small portion of it and have to scroll left to right. You also know it when there are no products on the site, no calls to action to add items to the wish list and/or shopping cart, no social shares, no appointments, no account management, or a host of other vital elements. All very frustrating to a visitor.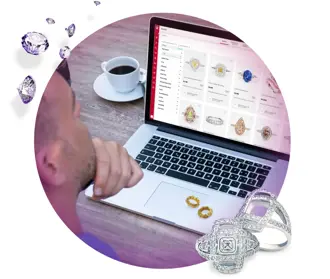 A modern website needs to solve all of the above issues, and more. Some issues like account management are easier to solve as all website systems provide that feature, along with responsive design, calls to action and modern templates which look good on all devices.
The harder issues to solve revolve around the actual products; how to get them up on the site and how to keep them updated. 
Generally speaking there are 3 ways to manage the products on your website:
1. Manually enter them through the website admin. This can be easy at first, but it's quite difficult to keep items updated this way. It's also difficult to show loose diamonds without resorting to iframes which have numerous disadvantages, including that they don't connect easily to the website shopping cart and that the items in the iframe aren't searchable from the website database.
2. Connect your POS inventory database into your website for auto updates. The obvious benefit here is that your website will reflect items you actually have in stock, but the downside is that it can be expensive to do the integration and it's a labor intensive process to get accurate product data and images into your POS. Also your selection is limited to what you have in stock.
3. Use vendor cloud inventory feeds right into your website. There are several industry data aggregators that make it easy to get vendor cloud data on your website.  This is almost always permission-based and there is an immediate benefit of having hundreds or thousands of items per vendor to drive consumers interest in the long tail. The downside of using vendor cloud catalogs is that the items on your site are usually not in stock, so you have to make sure item availability is clearly indicated, and you need to learn how to cross-sell to products that you do have in stock.
Cloud Inventory from an aggregated diamond database of approved suppliers, such as RapNet's Instant Inventory helps establish a strong online presence in the loose diamond category, and lets you showcase thousands of items that you don't have in stock, which saves a lot of money in inventory costs.  
In the ideal world you should be looking to choose a website platform which makes all of the above product management options easy to execute and provides the best experience for your website visitors.. 
Find out how a new strategic alliance between RapNet and Thinkpsace can help you create affordable and elegant websites featuring RapNet's vast inventory of diamonds. RapNet members, click here for special discounted packages. Not a RapNet member yet? click here.
---
Larry Chasin
For the past 25 years, Larry Chasin has been helping jewelers take their business to the next level.  After first having a career in intellectual property law, Larry joined his family wholesale business before working with the Kwiat family selling loose diamonds and fine diamond jewelry as an independent sales manager from 1996 - 2008, where he grew a territory from nothing to $10M by creating innovative win-win partnership programs.
Since 2008, Larry has been a leading influencer for the industry's website technology evolution teaching jewelers to use their website to drive in store traffic and sales and teaching vendors to utilize B2B website technology to better serve their wholesale clients. Larry's vision for a jewelry industry specific website platform connecting the virtual jewelry catalogs of supplier into the websites of authorized retailers started first with his own company, Ideal Diamond Solutions which was one of the first SaaS website platforms to provide centralized vendor cloud inventories, later with GemFind, and since 2014 with Thinkspace which is now the largest website platform of its kind in the North American jewelry industry. 
---